Our Mission & Vision
The mission of The Channahon United Methodist Church Building Disciples – Growing Faith – Serving God
Our Ministry:
We are part of the global United Methodist Church: Making disciples of Jesus Christ for the transformation of the world. The global UMC works as a connectional system to spread the Word of God through relationships, prayer, worship, study, missions, social justice, academics, and much more. It is through this connection that CUMC's ministries contribute to ministries around the world. In addition to working with the greater United Methodist Church, CUMC sponsors and/or hosts at our church:
Boy Scouts, Cub Scouts, Girl Scouts,, TOPS, Habitat for Humanity, VASA, Garden Club, Senior Citizen Luncheons, Ladies Aid Thrift Shop, Quilting Bees
PASTOR: Tim Casey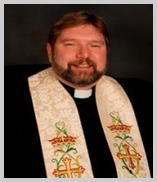 I was raised in a rural community in south-central Wisconsin. I was ordained in the Church of the Nazarene in 1990. In 1992, my family and I moved to Evanston, Illinois so I could attend Garrett Evangelical Theological Seminary. I received my Master of Divinity degree in 1994 and moved to Nebraska to serve a two-point charge in the United Methodist church. It had been my hope to become a full member of the conference in 1998, however an automobile accident in 1997 meant that I had to postpone my pursuit of full membership until 2001. I became the senior pastor at Good Shepherd UMC in Bartlett, Illinois in 2006. I have developed dynamic ministries in youth, caring ministries (Stephen Ministries) and bible and book studies. I love being a disciple of Jesus Christ and helping others become disciples. I thank God for the blessings of everyday life and I look forward to what comes next. God is GOOD!
Brittany Alcantar, Director of Spiritual Formation
My name is Brittany Alcantar. I am so excited to be part of Channahon United Methodist Church and continuing to expand in the new position as Director of Spiritual Formation. My home church growing up was Mokena United Methodist Church where I was actively involved in helping cut grass in the summers, helping organize the annual pig roast and crafters sale, VBS games coordinator, and participated in music events throughout the year with the choir. With the love of music and passion to help others I decided to attend college majoring in Music Education. I graduated University of St. Francis in 2011 where shortly after I began as Adult Choir Director at CUMC.
My love for helping others was developed not only at church, but also in the work world. I am the oldest of five girls and all I can say, poor dad. My grandparents own a business in Mokena where I grew up while mom and dad worked. I spent a lot of time there and if I ever said, "Grandma I am bored", was not that way for much longer. She would show me how to answer phones, take payments, and just overall customer service. When my mother and aunts opened up different businesses in the same office my skills were just transferred over and that is where I continued to work throughout college. Used my skills to get a job at a furniture delivery company and would schedule deliveries. Of course it did not stop there. I was offered an opportunity to run three storage facilities and Uhaul truck rental and it was the greatest opportunity for our family at the time where I still reside in Shorewood. That is what brought me to Channahon United Methodist Church.
All while working I met a wonderful man, Jim, 11 years ago. He brought with him two beautiful children into my life and I never regret it one day; Isaac (16) and Breanna (13), boy does the time fly by. Loosing Jim last year was the hardest thing I have had to endure, but by the grace of God and this congregation our family has not had to do it alone. So with that, I couldn't be happier to help guide and expand on this congregations' faith through education of how God wants us to live. I look forward to the many things we can do together in the near future to help guide ourselves, the youth, the children, and those around us down the path that leads to Eternal Life.
Kris Hayden – Administrative Assistant
I started working at Channahon UMC on October 15, 2012
I am married to Todd for 25 years and we have tww son, Kory & Camron who are the loves of our life.
I love any kind of worship and spiritual retreats, family vacations, and playing co-ed volleyball with my husband.
I have several sacred friendships that help keep me grounded and Jesus in the lime-light!
What I love most about my job is lending a listening ear to those who stop in my office and sharing scripture wherever possible! And I am the CUMC Thrift shop's BEST customer…(teehee!)