Tuesday Mornings – 9:30a-11a – Fellowship Hall
This study is for both men and women and will begin on January 8, 2019.
We will be doing a study of the Narrative Lectionary.
Please sign up in the narthex.
Mid-Week Adult Bible Study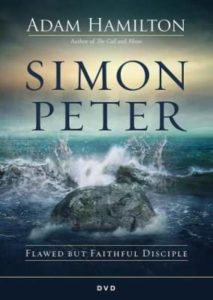 The Midweek Adult study will switch gears for a Lenten Study with Adam Hamilton's 'Simon Peter – Flawed But Faithful Disciple ' The 6-Week Lenten class is led by Pastor Tim Beginning on Wednesday March 13th at 6:30pm in room 144 – meeting every Wednesday evening. Please indicate on the sign up if you would like us to order your book . This is also available in Kindle version to order on your own.