I was born in 1966 in South Korea and was raised in the church. My father is a retired Korean Methodist pastor with 50 years of ministry. My parents live in Seoul, Korea and never stop praying for their son. I have learned many important lessons from my father's ministry.
Education & Ministry
I studied at KMTS (Korean Methodist Theological Seminary) and earned a Master's Degree in Theology. I was ordained from the Korean Methodist Church in 1991. This year I am celebrating my 30 years of ministry as an elder. In 1992, I was drafted into the Korean Army as a chaplain and served until 1995. After being discharged from the military service, I served at one of the biggest mega-churches in Korea, Manna Methodist Church, which had 10,000 members, As the Associate Pastor, I worked with 200 Sunday school teachers and helped the Christian Education Program grow from 500 people in Sunday school attendance to 1,500. In 1999, I felt a strong need to study media communications to reach the next generation, who lives in a multi-media culture. I came to the United States and earned my second Master's degree in Religious Communications at the United Theological Seminary in Dayton, Ohio. I learned how to develop effective media tools for my ministry and I mastered high levels of creating videos, publications, web pages, and graphic design. In 2003, I was called to serve at a Korean UMC in Toledo, OH. In 2005, I was transferred into the Northern Illinois Conference and served at Baker Memorial UMC in St. Charles until 2009 as the Associate Pastor and Director of Christian Education. In 2009, I was appointed to Calvary UMC in Stockton and served for 5 years. For the past 7 years, I have been serving the Church of the Incarnation in Arlington Heights, IL.
For emergencies you can reach Pastor Doh at 630-740-9275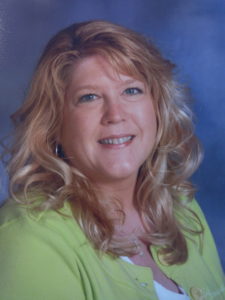 Kris Hayden – Administrative Assistant
I started working at Channahon UMC on October 15, 2012
I am married to Todd for 25 years and we have tww son, Kory & Camron who are the loves of our life.
I love any kind of worship and spiritual retreats, family vacations, and playing co-ed volleyball with my .
I have several sacred friendships that help keep me grounded and Jesus in the lime-light!
What I love most about my job is lending a listening ear to those who stop in my office and sharing scripture wherever possible! And I am the CUMC Thrift shop's BEST customer…(teehee!)
24751 W. Eames
Channahon, Il. 60410
815-467-5275
Fax: (815) 467-7435
Office Hours – M-F 9:00 to 1:00
For an emergency call Pastor Doh at 1-630-740-9275