Pastor Doh was born in South Korea and was raised in the church. His father is a retired Korean Methodist pastor with 50 years of ministry.
He studied at KMTS (Korean Methodist Theological Seminary) and earned a master's degree in Theology. He was ordained from the Korean Methodist Church and was drafted into the Korean Army as a chaplain. After being discharged from the military service, he served at one of the biggest mega-churches in Korea, Manna Methodist Church, which had 10,000 members. He worked with 200 Sunday school teachers and helped the Christian Education Program grow from 500 people in Sunday school attendance to 1,500. In 1999, he felt a strong need to study media communications to reach the next generation and came to United States. He earned his second master's degree in Religious Communications at the United Theological Seminary in Dayton, Ohio. He was transferred to Northern IL conference in 2005 and served at Baker Memorial UMC in St. Charles, Calvary UMC in Stockton, and the Church of the Incarnation in Arlington Heights, IL.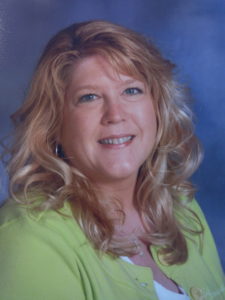 Kris Hayden – Administrative Assistant
I started working at Channahon UMC on October 15, 2012
I am married to Todd for 25 years and we have tww son, Kory & Camron who are the loves of our life.
I love any kind of worship and spiritual retreats, family vacations, and playing co-ed volleyball with my .
I have several sacred friendships that help keep me grounded and Jesus in the lime-light!
What I love most about my job is lending a listening ear to those who stop in my office and sharing scripture wherever possible! And I am the CUMC Thrift shop's BEST customer…(teehee!)
24751 W. Eames
Channahon, Il. 60410
815-467-5275
Fax: (815) 467-7435
Office Hours – M-F 9:00 to 1:00
For an emergency call Pastor Doh at 1-630-740-9275